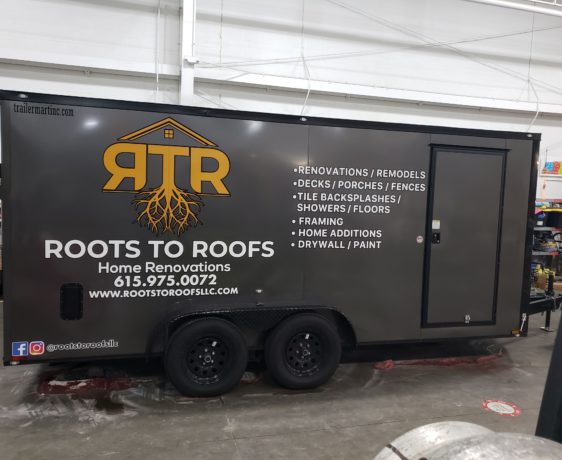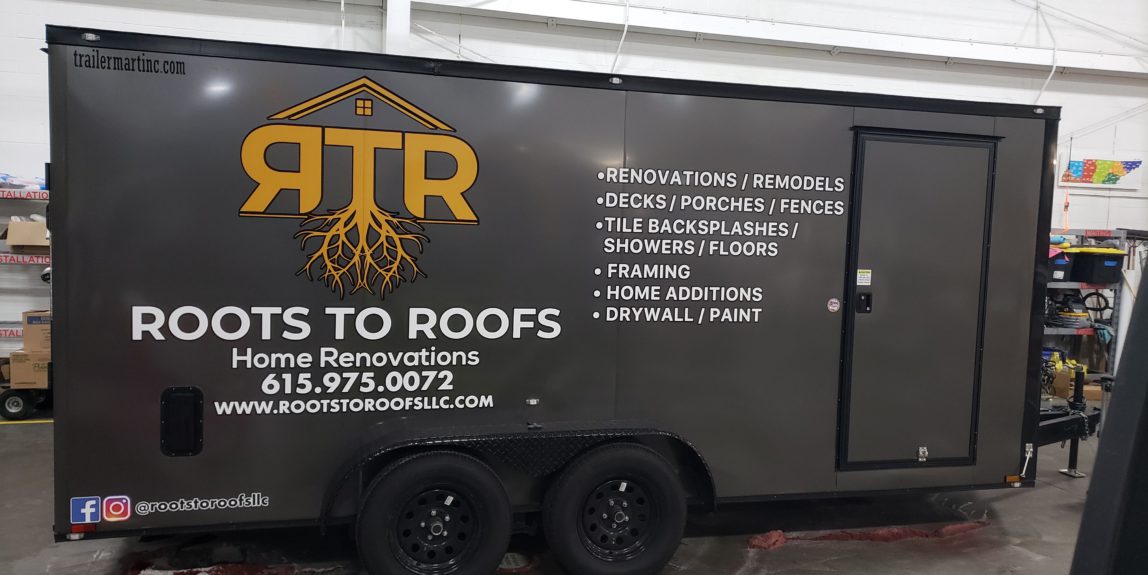 The Benefits of Construction Trailer Wraps for Your Business
Construction trailers can be more than just a means to transport tools and materials. With a custom vinyl wrap, your trailer can be a beautiful mobile advertisement for your business in visible and high-traffic areas.
Using wraps with your logo and contact info on a vehicle or trailer is a great way to attract attention and new customers to your business.
Let's look at how you can add a vinyl wrap to your vehicle, and some of the ways it can benefit your business.
What Are Construction Trailer Wraps?
Construction trailer wraps are the same high-quality vinyl wraps made from 3M material that you may see on trucks and other vehicles.
Vinyl wraps are durable and come in a variety of colors, lettering, tints, and finishes, making them perfect for cargo and enclosed trailers.
You can adhere a totally custom wrap over the entire surface of the construction trailer, or just part of it, depending on your preferences and budget.
Adding a professionally designed wrap to the trailer will upgrade its look, transforming a boring piece of equipment into something professional and striking.
What Are Some Examples of a Trailer Wrap?
Wraps fit seamlessly over your trailer without damaging the paint or surface. They can help protect your trailer from scratches and dings while drawing attention to your brand.
Wrapmate has created stunning graphic wraps for a variety of trailers, including horse trailers, junkyard green trailers, and enclosed trailers.
Can Wrapmate Design Your Construction Trailer Wrap?
Yes, we can. Wrapmate has professional designers who work with you to get the best wrap for your vehicle or trailer. 
They will customize your design based on your brand, logo, color scheme, and specific wants.
What's the Process of Getting a Trailer Wrap?
Contact Wrapmate and an Account Manager will handle the process for you. They will always be your point of contact and will take you to step by step through the process.
With a refundable initial project deposit fee of $250, our professional designers will get started. Send pictures and exact measurements of your trailer, as this helps them know exactly where to place graphics.
If the first design isn't perfect, you get up to three rounds of revisions, so you can be assured you'll get the product you want. Wraps last a long time, so Wrapmate wants you to love the look and design for years to come.
Once you approve your wrap, we schedule your installation. When your construction trailer is ready, you come to pick it up.
Will Your Construction Trailer Wrap Last?
There are significant cost advantages to using a wrap for your trailer or vehicle instead of going with other options like billboards and public signs.
Traditional billboards can cost anywhere from $250 to $14,000 per month, contingent on your location.
The cost of a wrap depends on the square footage of your trailer. Wrap material typically costs $8 to $12 per square foot, plus $2 to $3 per square foot for installation.
Wrapmate offers an average vehicle wrap cost of about $2,000 to $5,000, with partial wraps costing less. We offer flexible payment plans as low as $74 per month.
With proper care, wraps can last five to seven years, giving you a lot of time to see that return on investment.
Not only do wraps cost less than traditional billboards, but they also last much longer. While you could spend money on paint advertising, vinyl wraps cost less than a paint job, take less time, and last years.
And with Wrapmate's high-quality 3M vinyl film with a 1-year warranty on installation, 100% satisfaction guaranteed promise, and a refundable $250 Initial Project Deposit for all designs, you can rest easy knowing you'll be satisfied.
Benefits of a Construction Trailer Wrap
Here are some of the ways that wrapping your construction trailer can benefit your business:
Mobile Advertising Has a Broad Reach
A construction trailer wrap is a long-lasting mobile advertisement and a great investment.
Not only does it travel and spread information about your company, but it also makes your business look more professional by enhancing the look of your trailer and making people see that you take pride in your company.
A single wrap can achieve about 70,000 views per day, while radio and television ads target a select audience and cost more.
Other online and social media ads on platforms like YouTube cost about $0.10 to $0.30 a day with a daily budget of $10, so you'd be lucky to reach even 100 people a day.
By bringing your advertisement with you wherever you drive, you can reach a broader area and audience than stationary billboards or ads on the radio, TV, or social media.
Wraps Are a Non-invasive Way to Get Your Message Out There
While many other forms of advertising can be seen as intrusive and annoying, wraps don't interrupt or intrude on anyone's time or patience.
They are eye-catching and draw attention, but a potential customer looks at them on their own terms without it taking anything away from them.
Wraps are also a great way to help spread your business name via word-of-mouth and gain maximum exposure to prospective customers.
Entrepreneurs know the importance of getting their name out there in a cost-effective and authentic manner. Wraps are a passive way of advertising that doesn't overwhelm or inconvenience anyone.
Your trailer will already be in people's line of sight, so why not add more interest and draw more customers on your way to the job site?
Wraps Are an Easier Way to Advertise 
Taking an easy and worry-free advertisement with you while you're on the job is a good method to get your name out there.
With a trailer wrap, you don't need to spend time and energy worrying about getting commercial airtime or budgeting more money for advertising.
In order for your wrap to generate the best return on investment, consider these tips:
Include your business phone number, and advertise a special deal on the wrap to help you keep track of who called because they saw it.
Add a URL or QR code to the wrap that will direct people to your website — motorists as well as people who see your trailer while it's stationary. This will increase traffic to your website and bring more business to your company.
Once you've fully invested in a wrap, it can work its magic for years.
FAQs About Construction Trailer Wraps
Here are answers to some commonly asked questions about construction trailer wraps:
Do I have to wrap the entire trailer? 
No, you can do full or partial wraps based on your budget.
Can I finance my construction trailer wrap?
Yes, we offer a variety of options for financing with Uplift.
How long will it take to wrap my trailer?
As long as we have pictures and measurements, we can get you an initial design in five to seven business days. Then two to three weeks are scheduled out for installation.
---
Ready to get your vehicle wrapped?
---