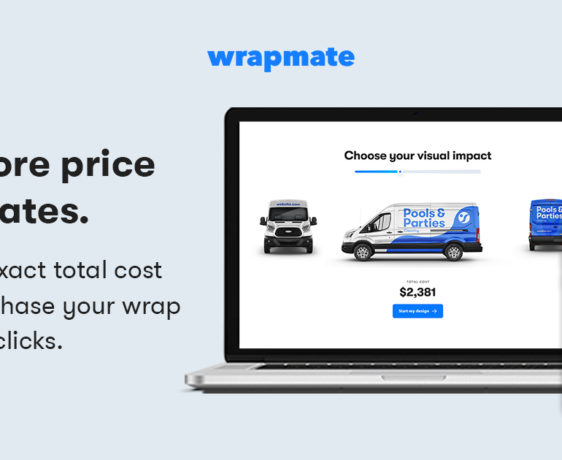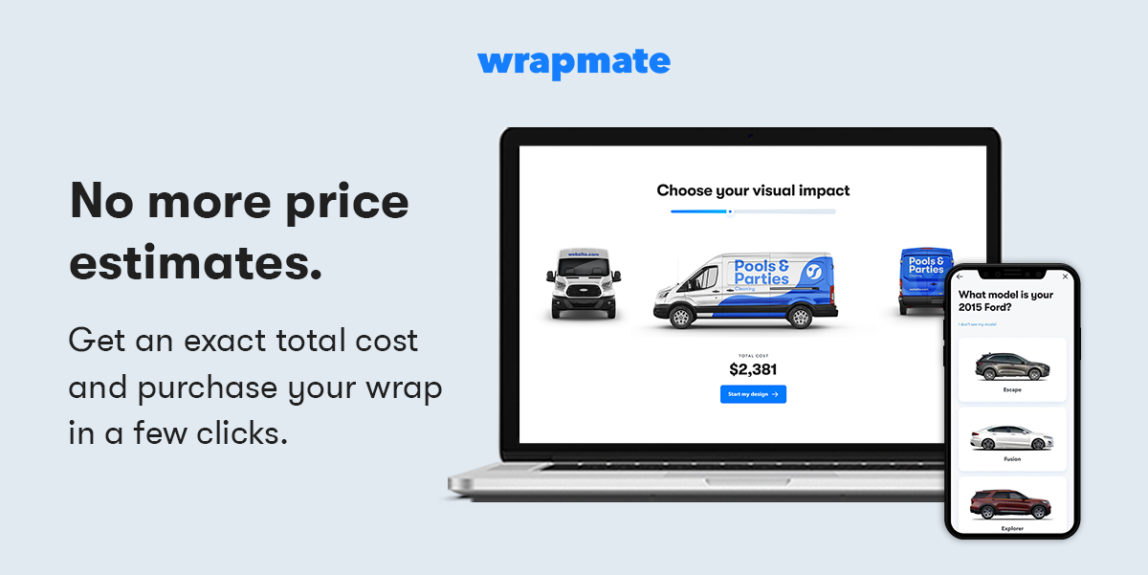 How Much Do Vehicle Wraps Cost?
Car Wrap Price Ranges
Vehicle wrap costs vary based on the make/model/trim and other factors of the vehicle. The cost also depends on whether you decide on a full or a partial wrap.
A ballpark range is from $2000-$5000 for a full wrap. However, companies like Wrapmate can offer you flexible payment plans to help offset initial costs (theirs is as low as $74/mo).
This article will delve into the general price ranges of car wraps, so you can get a good feel for what it would cost to make your vision be emblazoned on your particular vehicle.
And when shopping for wraps, it's important to keep in mind that their benefits are not just visual. A properly installed wrap may help protect your automobile from dings and scratches. Many businesses install wraps because it helps them promote the quality of their own brand and even generate valuable new business from their local market.
And when you bring your car in for wrap installation, it's important to have your car washed prior, so that the application on the wrap can have the longest lifespan, thus getting you the most value.
Now, let's get onto the types of wraps you can get, their pros and cons, and where you can save your money.
Full Wraps vs. Partial Wraps
A full vinyl car wrap will cost more than a partial wrap. For each type of wrap listed below, we'll include price ranges for full wraps and partial wraps, since those dramatically affect the price.
A partial wrap can potentially look as good as a full wrap, particularly if you're using it to advertise your business. Keep in mind that Wrapmate has professional designers who will work with you on your dream design to make sure your car looks incredible, even with partial wraps.
Wrap material generally costs between $8-$12 per square foot, plus $2-$3 per square foot for the installation. And if you're not applying it professionally, you'll also need to have the correct tools.
Finally, remember that the size and length of the vehicle will impact the car wrap cost.
Commercial Vinyl Wraps
Vinyl wraps are a high-quality way to change the look of your vehicle. The vinyl is made of a thin protective layer of PVC (or Poly Vinyl Chloride). This vinyl material, manufactured by 3M, is quite durable and has a lifespan of 5-8 years depending on the care you give it.
While it's true you can purchase the material yourself and take a DIY approach with a heat gun, you could end up with a sub-par product. It's a difficult process to apply the material without air bubbles and imperfections. The best option is to employ a professional who has experience working with the material, since it can't be re-applied.
Full Wrap Price Range
A full wrap price is in the ballpark of $1500-$3200 to install a quality wrap. Of course, this depends on the type of vehicle. A 2-door coupe would cost less than a long 4-door sedan or a commercial vehicle.
Also, consider that you can get financing for your dream wrap job which can make the project more affordable.
Partial Wrap Price Range
Partial wraps are a great option for shoppers with a smaller budget. A partial wrap can still effectively brand your business but at a lower cost. The range of partial wrap pricing can be quite large as it really depends on the surface area being wrapped.
A good ballpark is $900-2000 for a 40% wrap. But wrapping the windows only can come in at under $1000 and still get the marketing results you want to achieve.
Carbon Fiber Wraps
Carbon fiber wraps have a one-of-a-kind textured finish, which is referred to in the car industry as 4D carbon fiber. The typical glossy finish you would see in other vinyl wraps is not applied to carbon fiber wraps. Some people prefer this as it really stands out, particularly on a sports car.
Another benefit of carbon fiber wraps is increased durability. The wrapping material is stronger and more protective against dust, dirt and dings. So wrapping an expensive car in carbon fiber is the best choice for protecting the original paint job.
So how expensive is this extra paint protection you get with the carbon fiber wrap?
Full Wrap Price Range
The carbon fiber wrap is a little more expensive material-wise than standard PVC vinyl wrap—but much less than a complete carbon fiber build as you might see in a Lamborghini.
Most carbon fiber wrap jobs are full wraps because of the look of the material, but not in all cases.
A carbon fiber wrap can cost between $4500 and $6500 for a full wrap.
Partial Wrap Price Range
You can choose to wrap a portion of the car, like a roof wrap that gives a protection film to the roof area of a car, which can be sensitive to being damaged.
Partial carbon fiber wraps can cost $2500-$4500 on average.
Matte Wraps
Matte wraps have a unique look and feel. They help protect the original paint and can give you a look you can't achieve with just a new paint job.
One of the main benefits of a matte wrap is that it reflects the sun's UV rays and protects the car's paint beneath the wrap.
Full Wrap Price Range
Matte wraps are a good choice for both consumer cars and also for commercial vehicles. The durability provides good value for the money, and matte wraps can be printed with graphics, lettering, and your contact information, if you own a business.
Full matte wraps cost between $2500 and $5000.
Partial Wrap Price Range
Partial matte wraps start at around $800 and up. The best option is to use a pricing chart like this one to get a feel for how your particular make and model would look with different sizes of partial wraps.
Solid Color Wraps
Nothing looks better than a fresh coat of paint… except a full solid color wrap. Repainting an entire automobile is one option, but more car owners are now choosing the more appealing option of getting a solid color wrap.
If you choose a new paint job, you might have to contend with air bubbles, and your design and color choices may be limited. Not so with the option that many discerning car owners are taking—wrapping their entire car.
A color change is easier with a wrap job. Plus you may want to spring for that bolder color since the a color wrap is not permanent.
Full Wrap Price Range
There is nothing quite like the feeling of a full wrap. It feels complete and luxurious. To achieve this, a full wrap costs in the range of $1500 to $5000 (depending of course on the material type and overall surface area.)
Partial Wrap Price Range
A partial wrap price is usually from $350 to $2,600 (typically covering 40%-90% of the vehicle.) The costs for small logos, lettering and decal panels range from $180 to $600.
It's always best to check the price for your specific make and model of vehicle.
Budget Your Vehicle Wrap Costs with Wrapmate
There are a lot of options when you choose to wrap your car: from graphics, to the type of material, to installation.
To discover your specific car wrap costs, you can use Wrapmate's proprietary pricing tool which gives you a specific price for different sizes of partial wraps and the cost of the full bumper-to-bumper wrap.
And with Wrapmate there is never a price too high for you, because we offer flexible options for financing a loan through our website. These one-of-a-kind payment plans have available terms ranging anywhere from 6 months to 18 months—whatever works best for you.Check Wrapmate out and see exactly what your make and model of the car could look like!
---
Ready to get your graphics?
---