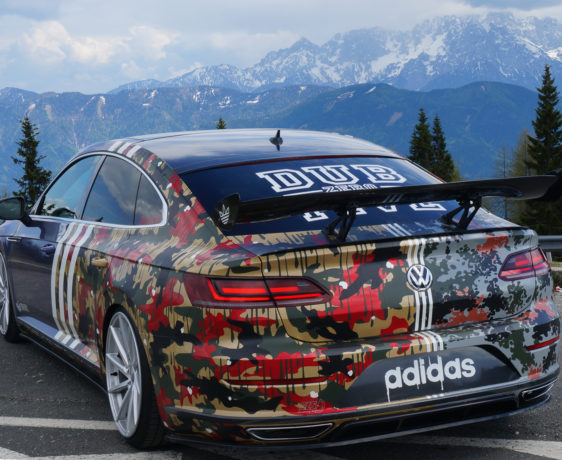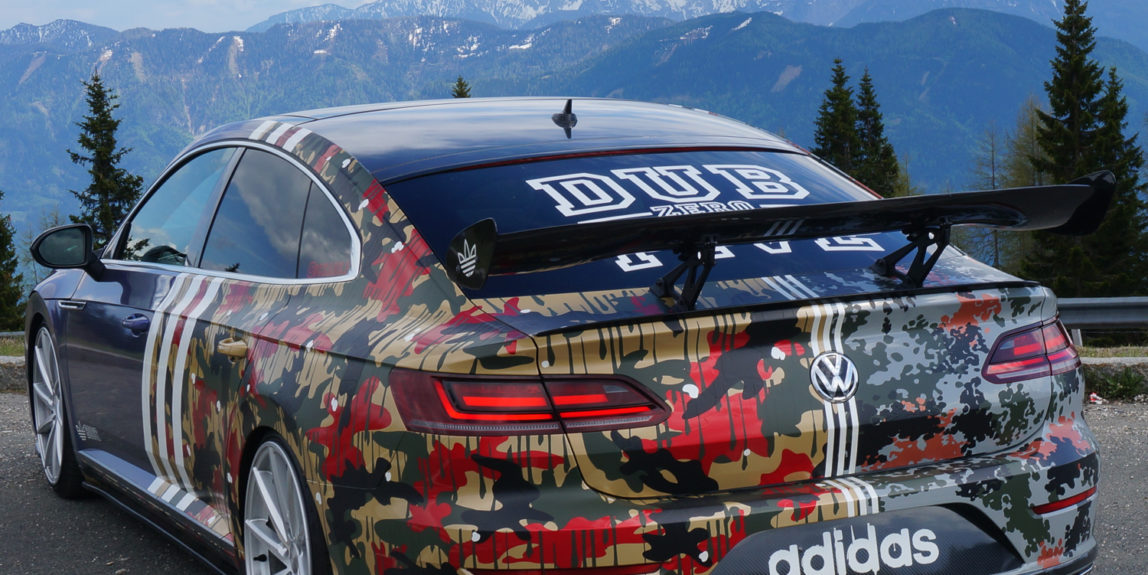 What Is a Half and Half Car Wrap?
Half and half car wraps allow you to wrap only half of your vehicle in vinyl graphics. Wrapping only the left or right side of your vehicle, rather than wrapping the whole thing, can be ideal depending on your preferences, budget, and the needs of your project.
Our projects and clients are diversifying rapidly, and with that comes the demand for new and unique ways to wrap a car. With a half and half car wrap, you minimize coverage of your vehicle while keeping all the brand-boosting abilities of a full wrap — on one side only.
What Are Car Wraps?
A vehicle wrap is a vinyl film that is applied directly over the paint coat of a car's exterior body panels. It is the go-to method to radically change the look of the car without having to modify, remove, or paint anything.
For companies, using their fleet as a mobile billboard is an essential part of the marketing strategy. With up to 70,000 impressions per day depending on the location, you are guaranteed to create leads — especially with bold colors, letterings, and messages that catch on.
What's more, this way of generating exposure does not incur monthly advertising costs, is more cost-effective than spray-painting, and allows change-outs for limited-time promos or events.
Using vehicle wraps for mobile advertising has a higher return on investment than other advertising channels for both large and small businesses. Plus it can be much more affordable.
For example, a traditional billboard can cost $250-14,000 per month, while a vehicle wrap has a one-time cost between $2,000 and $5,000 and can look great five to seven years later.
Vehicle wraps are great for anyone who wants to boost their visibility on the road, not just big logistics companies. A lot of our projects involve local contractors like construction businesses, cleaning services, home inspectors, food delivery vans, and hauler trailers for racing and other sports.
The demand for non-commercial vehicle wraps has also increased greatly, as everyday people use them as a way to express themselves with their vehicle. A custom vinyl wrap can convey your personal message or personality and impress others.
Anyone who wants to wrap their ride has a great choice of finishes:
Glossy – The standard choice that mimics the look of car paint.
Matte – A non-reflective option.
Satin – An in-between option that produces softer reflections for an elegant finish.
Clear – Add partial graphics and text without altering the car's overall color.
Metallic – Contains flakes for a bright, sparkling effect.
Chrome – Mirror-finish wrap that can emulate the look of silver, brass, copper, gold, rose gold, or other colors.
Special FX – A range of spectacular options that includes:

Holographic – Generates varicolored, tie-dye-like refractions as viewing angle changes.
Pearlescent – Shade-shifting film dependent on lighting conditions.
Thermochromic – Color-changing wrap with a transition temperature.
What Are the Different Types of Vehicle Wraps?
All vehicle wraps are the same, but the coverage is different. There are several different ways to wrap a car and garner the attention of fellow drivers. The cost depends on the areas to wrap and the level of difficulty, so knowing which exact parts will be included is useful when requesting a cost estimation.
Spot Graphics
Spot graphics are an efficient alternative to vehicle wraps. Using the highest-quality vinyl, smaller decals are applied to the hood, rear, or side. They typically contain the essentials such as a logo with a website, phone number, hashtag, and call to action. With a striking paint job, a car with spot graphics can be an eye-catcher.
Quarter Wraps
A quarter wrap involves wrapping the rear section including the quarter panels, which is the area around the rear wheel arch. The tailgate is another popular option for trucks to gain a lot of visibility with minimal cost.
Half Wraps
In a half wrap, the graphics extend forward into the doors and roof up to about the halfway line. The duotone appearance with a front/back division can add a lot of vibrancy and drive up your brand recognition.
Full Wrap
The most popular option for passenger cars, a full wrap typically covers the hood, rear, doors, roof, and trunk. However, the bumpers, grille, mirrors, rocker panels, and even windows can be included. Full wraps can change the color and finish of the entire vehicle. With the latest digital printing technologies, the possibilities are endless for multicolored and photorealistic graphics.
Half and Half
A half and half car wrap divides the car cleanly in half along the central plane. By choosing to wrap either the left or right side of the vehicle, you can get nearly full exposure for a reduced price. By driving on the outer lanes, along sidewalks, exhibiting against a back wall, or parking strategically, your car will serve as a fully-fledged marketing asset.
How Is a Half-and-Half Car Wrap Created and Installed?
First, you need to find a graphic designer and show them examples of half and half car wraps. If you are confident that they understand what you want and can create the graphics you need for your vehicle, hire them to create some mockups and then go from there.
Once the wrap is designed, installing a half-and-half car wrap is no different than a full wrap job, except that it takes less time and is less expensive. The entire wrap starts as a single piece of vinyl film which is expertly stretched and sculpted around convex areas and recesses.
When it's smooth enough and the tension in the plastic is well divided, air traps are rubbed out with a squeegee. Then the film is cut in sections to fit the separate body panels, and the edges are tucked in for a lasting bond. The art of wrapping lies in ensuring that the underlying tension is just right, so the adhesive doesn't let go.
This highly skilled work can take anywhere from a few hours to 1 to 2 days. Wrapmate understands how much material will be needed and how to best apply the film so it will last the longest.
When applied by Wrapmate's team of professionals, your wrap will be resistant to damage by weather, temperature shifts, and vehicle washes for years to come.
Do You Need a Graphic Designer for Car Wraps?
It's advisable to hire a graphic designer with professional experience in the vehicle wrap industry. Wrapmate's in-house designers have all the know-how to design any type of vehicle, and they understand how much material will be needed for each wrap.
Based on your concept design, they will go by design rules and blueprints to create the accurate and pixel-perfect graphics your car is waiting for.
A pencil sketch, a few color codes picked from a RAL or Pantone fan deck, and some reference images grabbed from Pinterest will usually be enough. It's also a good idea to talk about revisions before hiring, in case you're less than satisfied with the delivery.
To ensure that your design lives up to your expectations, all vehicle wraps go through a series of revisions and final approval. Plus, we offer a 100% satisfaction guarantee. If you don't love your wrap design, we'll refund your money, no questions asked.
How Long Will Vehicle Wraps Last?
Under ideal conditions, a vehicle wrap can last five to seven years. We use superior 3M wrap film, but as it is plastic and by nature more vulnerable than automotive spray paint, it needs to be well maintained.
Wraps should be washed weekly to prevent the ingress of dirt, stains, and other pollutants that will erode the graphics. In case of contact with liquids that contain grease, fat, acid, gasoline, alcohol, or other chemicals, do not let it dry. Rinse abundantly with warm water and then gently wipe off the stain.
Power washing is fine as long as the pressure is below 2,000 psi, you use a wide-angle nozzle, and avoid blasting on the seams. It's best to hand wash with a sponge, silicone squeegee, and microfiber cloth for drying.
Since the material is UV-sensitive, park in the shade whenever possible. If this is impractical, you can still expect the graphics to maintain their high quality for several years. For extra durability, a carnauba rub, synthetic wax, or ceramic coating will work.
Where Is Wrapmate Located?
Wrapmate is headquartered in Denver, Colorado, and we have a nationwide network of 1,300+ installers located in major cities such as Los Angeles, New York, Detroit, Miami, Las Vegas, and Chicago.
Using our online portal, customers can upload their design and go through the purchasing process for any vehicle.
What Type of Wraps Does Wrapmate Offer?
Wrapmate will create wraps for commercial as well as personal vehicles. A vehicle wrap is a great option for anyone who wants to advertise a product or service, or simply let their personality shine through their vehicle the same way they may express themselves with certain clothing, hairstyles, or tattoos.
Whether you're a contractor, restaurant owner, own a delivery service, or simply want to drive in style, we have you covered. Whatever the need or preference, we can wrap any vehicle for any purpose.
How to Get Started With Wrapmate
Our digital platform includes a pricing calculator that will facilitate the online transaction. Input your vehicle information including the brand, year, make, and trim, and pick the desired size and type of your wrap.
The Initial Project Deposit is $250 and will set the wheels of our design team in motion. Once your design is complete, pay a 50% deposit and we will schedule an install date with your local Wrapmate professional.
After the project is wrapped up and your car is ready for pickup, the remaining 50% will be due. You can also pay for the entire wrap online.
---
Ready to get your vehicle wrapped?
---