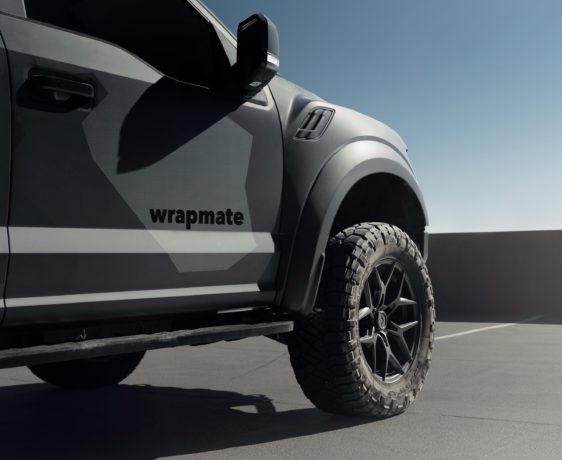 Cool Truck Wrap Design Ideas for 2022
What are High-Quality Truck Wrap Designs?
Truck wraps are high-quality decals that are made to partially wrap a truck or in other cases, wrap the entirety of the truck. Vehicle owners choose these cool truck wraps for a number of reasons.
Typically, reasons vary from adding character to their existing ride, advertising and brand recognition for an existing company, or merely wanting to preserve the original paint job of their vehicle by applying these vinyl wraps.
In this article, we will review some of the cool trucks that are often seen making a bold, eye-catching statement in these high-quality vinyl wraps.
What are Some Cool Trucks for Truck Wraps?
When people start looking into the possibility of a vehicle wrap, their first question is almost always, "Can my truck be wrapped?"
The good news is that almost all makes and models of trucks can be wrapped. Here is a shortlist of various makes and models that look fantastic when wrapped in either a full wrap or a partial wrap:
Dodge Ram Pickups
Toyota Tundra
Jeep Wrangler
Chevy Silverado
GMC
Nissan
Some Cool Truck Wrap Design Ideas
When initially setting out to wrap your truck, doing the proper research will reward you with some cool truck wrap designs. Step into a wrap shop and you will discover how extensive the choice of striking colors are for your vehicle.
The other option and taking it one step further creating a custom design wrap that can really set the mood for your truck or commercial vehicle!
In fact, you can literally find almost any color or create any custom vinyl wrap design that you can imagine. You can do matte wraps, carbon fiber wraps, and even add lettering, vehicle graphics and stickers to your final wrap design.
Get Partial Wraps to Attract Attention
As we mentioned before, one of the reasons owners choose to wrap their trucks is to advertise a business. Partial wraps are a great choice. These wraps offer less coverage than full wraps but are more involved than applying decals on your vehicle.
Partial wraps are an excellent way to grab attention since anyone you pass on a drive or your daily commute will see it. Partial custom wraps can be made for as low as $400 and are a great investment.
Get Full Wraps to Turn Heads
Full wraps make for very cool truck wraps. These full wraps are perfect for your truck, whether it's a pickup truck, food truck, car truck, or any type of vehicle including boats—yes, you can even have a boat wrap!
These full wrap designs are meant to be eye-catching. Watch people turn their heads as you drive by!
They are a popular choice for those who are looking to make an impact and want to be remembered. In fact, as an example, if you have ever seen a camo pickup truck, you know how big an impact a fully wrapped vehicle can make!
Use Matte Wraps for Bases
The use of matte wraps is another choice of wrap that gives off a very classy, muted vibe. Black matte wraps are the most popular, but you will find that other colors are quickly catching on.
If you've ever seen a matte wrap, there is no mistaking it – they are fabulous. Matte wraps are a high-quality base that should be done in a wrap shop because of the complexity it takes in the installation – but get it right and you will have a vehicle that everyone is talking about!
Employ Eye-catching Illusions
The other day, I saw a cool pickup truck that I thought was purple and yet when I pulled up behind it, I realized I'd made a mistake and it was a metallic blue… or was it?
In fact, I realized afterwards that what I was seeing was a color change wrap that made me believe the car was two different colours. It was striking!
You can create the same illusions with your own wrap. These wraps can be anything you desire under the sun and the wrap design can be as creative and spectacular as you want. These wraps also create the illusion of making the truck seem bigger than it actually is which is a big draw for some vehicle owners.
These illusions range from various changing colors to 3D images that trick the eye, many of them seen on both commercial vehicles and privately owned vehicles. How is that for the ultimate in a cool truck wrap?
Include Decals in Your Custom Wrap
What about decals?
Decals are another option to add character to your truck. Decals are usually less involved than a partial or full wrap but there are many stickers and vehicle graphics that can create a substantial and eye-catching statement to any truck.
Want to advertise your business, promote a cause, show off your personality? Decals are a solid option.
Don't Forget About Lettering
Of course, when creating the custom truck wrap for your vehicle, don't forget about lettering options. Lettering is an excellent way to get your message across. You can custom design the messaging on your truck wrap by adding lettering and even a custom font and the wrap will stand out even more.
Many new cars and cool trucks in various business fleets are using both the full wraps in conjunction with lettering. You can match any font with a wrap job.
Wrap the Bumpers Too
Did you know that you can wrap your bumpers, too?
Some people wonder if plastic bumpers can be wrapped and the answer is, "Yes, they absolutely can!" In fact, if you are doing a full vinyl wrap, don't forget the bumper!
The bumpers of modern vehicles are made to blend seamlessly with the rest of the truck's lines so be sure to include it in your wrap. The overall look of the custom wrap is better when you wrap your bumper.
Remember That Camo Always Looks Cool
Remember the camo full truck wrap I mentioned as an earlier example? Let it be known that camo wrap is a wildly popular choice and can come in all ranges of styles and colors! (How does pink camo sound?)
If you are into the camo look and want to wrap your GMC, Nissan, Jeep Wrangler or any other make and model truck type, there is a camo style for you!
Style Your Cool Truck with Vehicle Wraps from Wrapmate
If you are looking to change the style of your truck and style it with an even cooler vehicle wrap, check out the incredible selection from Wrapmate.
With so many styles and options from decals, partial to full wraps, along with custom design wraps, there is surely something that will appeal to you. Wrapmate's vinyl wraps will have you loving the new car look of your current vehicle!
---
Ready to get your graphics?
---