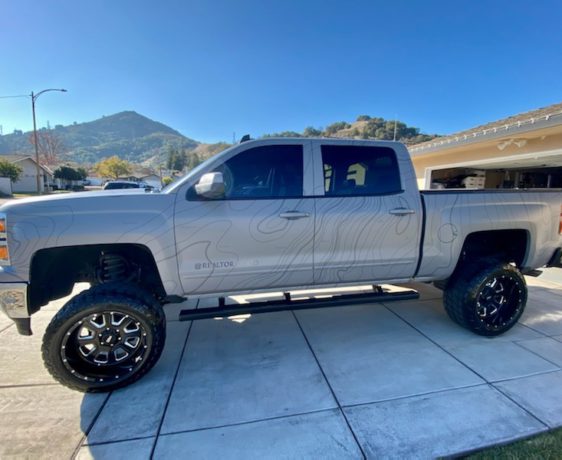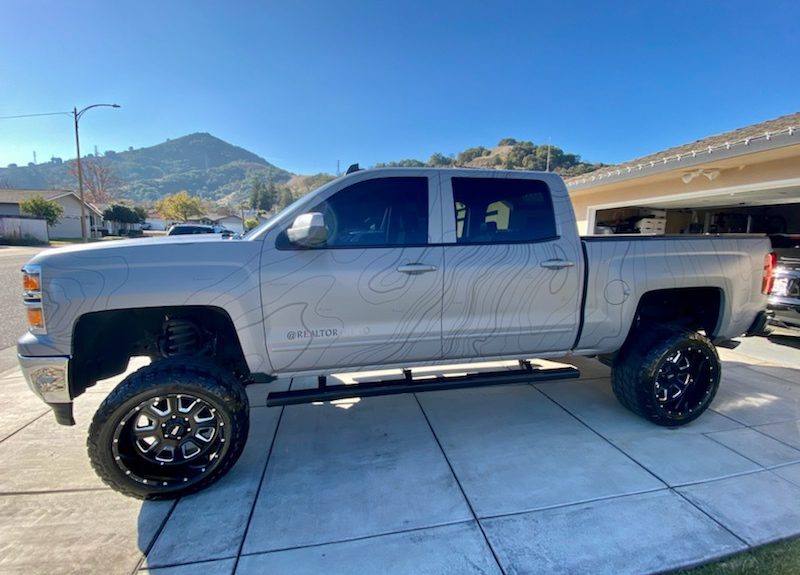 Benefits of Having a Silverado Vinyl Wrap
Your truck is more than just a mode of transportation. It's also an incredible marketing opportunity, and if you own a business you shouldn't miss out.
Mobile advertising is more effective and has a better return on investment (ROI) than traditional ads like billboards, TV, and radio. Wrapping your Chevy Silverado in a vinyl wrap turns your vehicle into a mobile billboard, earning your company up to 70,000 impressions per day.
Let's look at why a Silverado vinyl wrap is a great move for your business.
Silverado Vinyl Wraps to Drive New Business
Chevy Silverado pickup truck owners, want your vehicle to look great and be a powerful marketing tool for your business?
Silverado vinyl wraps will help your company maximize its marketing potential, increasing brand awareness in your area and driving more business to your door.
What are vinyl wraps? They're a high-quality vinyl adhesive film that covers your vehicle with designs of your choice. Having your truck wrapped in one of our professional and eye-catching designs will elevate the profile of your business in your community and position you as a leader in your industry.
Silverado Vinyl Wraps Stand Out
We will work closely with you on the design so your truck graphic accurately represents you and your brand. Our vinyl wrap will help you stand out from the competition, and we'll be with you every step of the way through the design and installation process to ensure you love the results.
Our use of decals and graphics is always eye-catching and gets people's attention. We exclusively use 3M vinyl films for our wraps. Using the best materials helps ensure quality and longevity while also helping to protect your vehicle's original paint from scratches and dings. We guarantee quality workmanship, so there will be no bubbles or other defects in your wrap. If maintained properly, your wrap can last five to seven years.
Our team will work closely with Chevy Silverado owners to ensure they get a wrap that's ideal for them and their company. At Wrapmate, we want your wrap to accurately reflect your personal preferences and brand image while also helping drive more business your way.
Why Chevy Silverado Owners Should Get a Vinyl Wrap
Silverado vinyl wraps look fantastic and help develop your unique brand identity while increasing brand awareness in your community. Here are more reasons why Chevy Silverado owners should get a vinyl wrap:
Cost effective: Vinyl wraps are the most cost-effective marketing strategy right now, at roughly $0.07 for 1,000 impressions.
Great ROI: Vinyl wraps offer an incredible ROI of around 3,400%.
Get recognized: Vinyl wraps are great for branding and recognition, which will make it easier for people to identify your company and connect you with the products or services you offer.
Professional: Our wraps will help increase potential customers' perception of the professionalism and trustworthiness of your business.
Personal brand expression: Our Silverado vinyl wraps let you customize the appearance of your truck to express your personal brand.
Protect your paint job: Top-quality vinyl will help protect your vehicle from scratches and similar damage.
How Much Do Silverado Vinyl Wraps Cost?
The cost of your wrap will depend on your vehicle and the type of wrap you choose. We charge by the square foot, and prices start as low as $1,000.
Here's a breakdown of the three main types of wraps you can choose:
Spot graphics or decals: These are our smallest and most affordable wraps. They are ideal for adding your company logo, contact details, and other basic information.
Partial wraps: A partial wrap will typically cover about half of your vehicle.
Full wraps: This option will cover your entire vehicle, offering you maximum visibility while on the road or parked in a visible place.
Use our pricing calculator to see how much your wrap will cost and decide which type of wrap is best for your business.
Why Silverado Owners Choose Wrapmate
Your Silverado vinyl wrap will get your business noticed. Here's why you should choose Wrapmate:
Financing: We're the only company that offers financing for vehicle wraps, and our competitive pricing helps make professional wraps affordable for smaller companies.
Satisfaction guaranteed: We know you'll love our wraps, so we offer a full money-back guarantee if you're not satisfied.
Wrapmate Pro Network: Our network covers the entire U.S., and we can handle your truck wrap flawlessly in your local city.
Outstanding customer service: We want you to have a great experience with us, and a dedicated account manager will be committed to you and your Chevy Silverado every step of the process.
Getting a Silverado Vinyl Wrap Done – The Wrapmate Way
To make your experience with us go smoothly, we have streamlined the process for you. Here's how to start the process of getting your own Silverado vinyl wrap:
Visit Wrapmate.com.
Click on "get your exact price."
Input your vehicle information. Don't worry, we can still wrap your vehicle if you can't find your exact year or trim.
Tell us how much coverage you want on your Silverado (spot graphics, partial wrap, or full wrap).
Once we have this basic information, our sales team will get in touch to clarify any further details we need before we can proceed. You'll start your design project with a $250 initial deposit, which is refundable.
Then, our professional graphic designers will begin collaborating with you to create a custom designed wrap for your brand. Developing the initial design typically takes five to seven business days, and the design can be further adjusted to suit your preferences.
Your account manager will be with you at every stage of the process to help with the coordination, scheduling, and installation. Once your wrap is complete, hit the road and get your brand noticed!
The images below are examples of wraps that left our previous customers delighted. These examples should give you an idea of the size of wrap you will need for your Silverado.
---
Ready to get your vehicle wrapped?
---