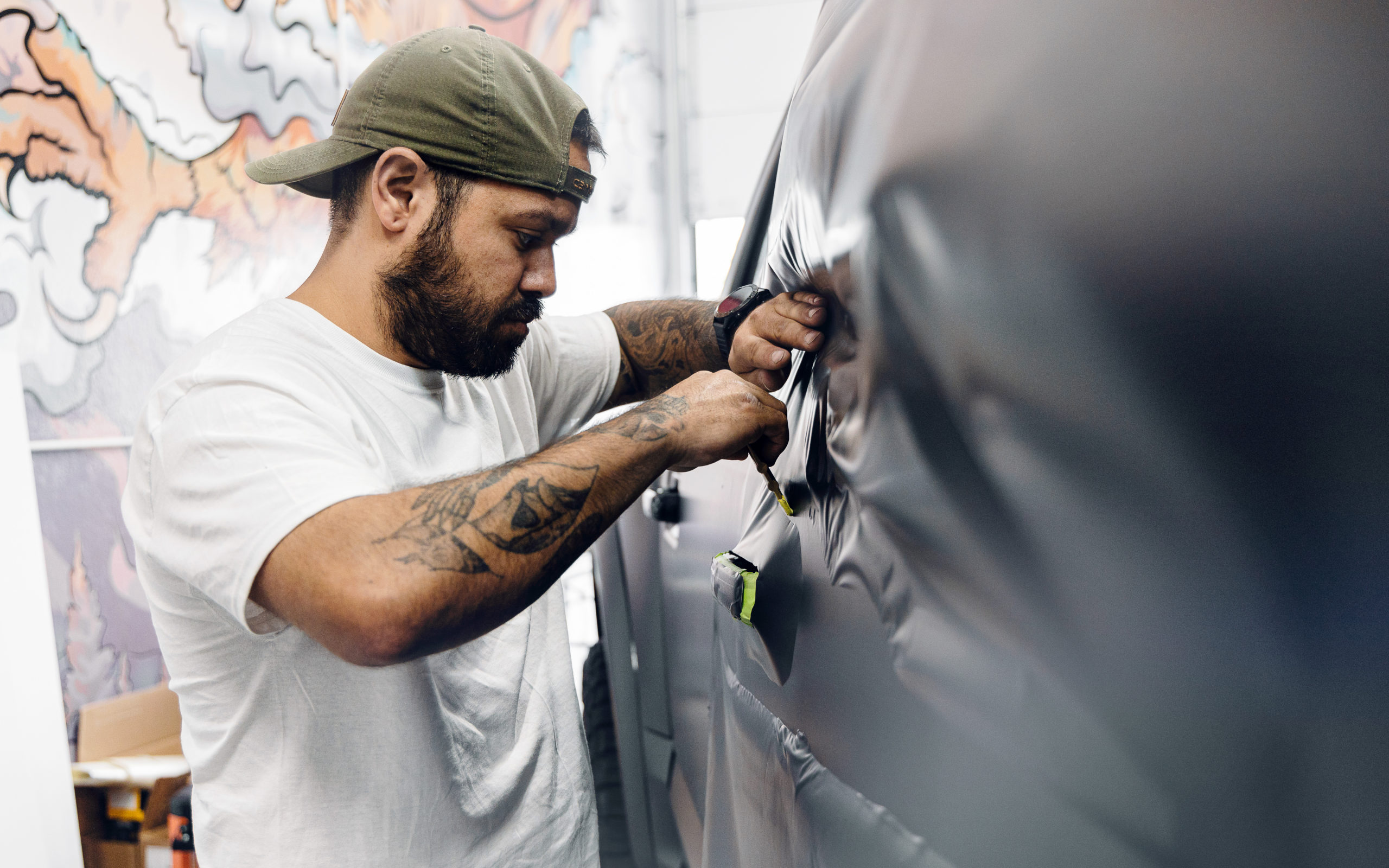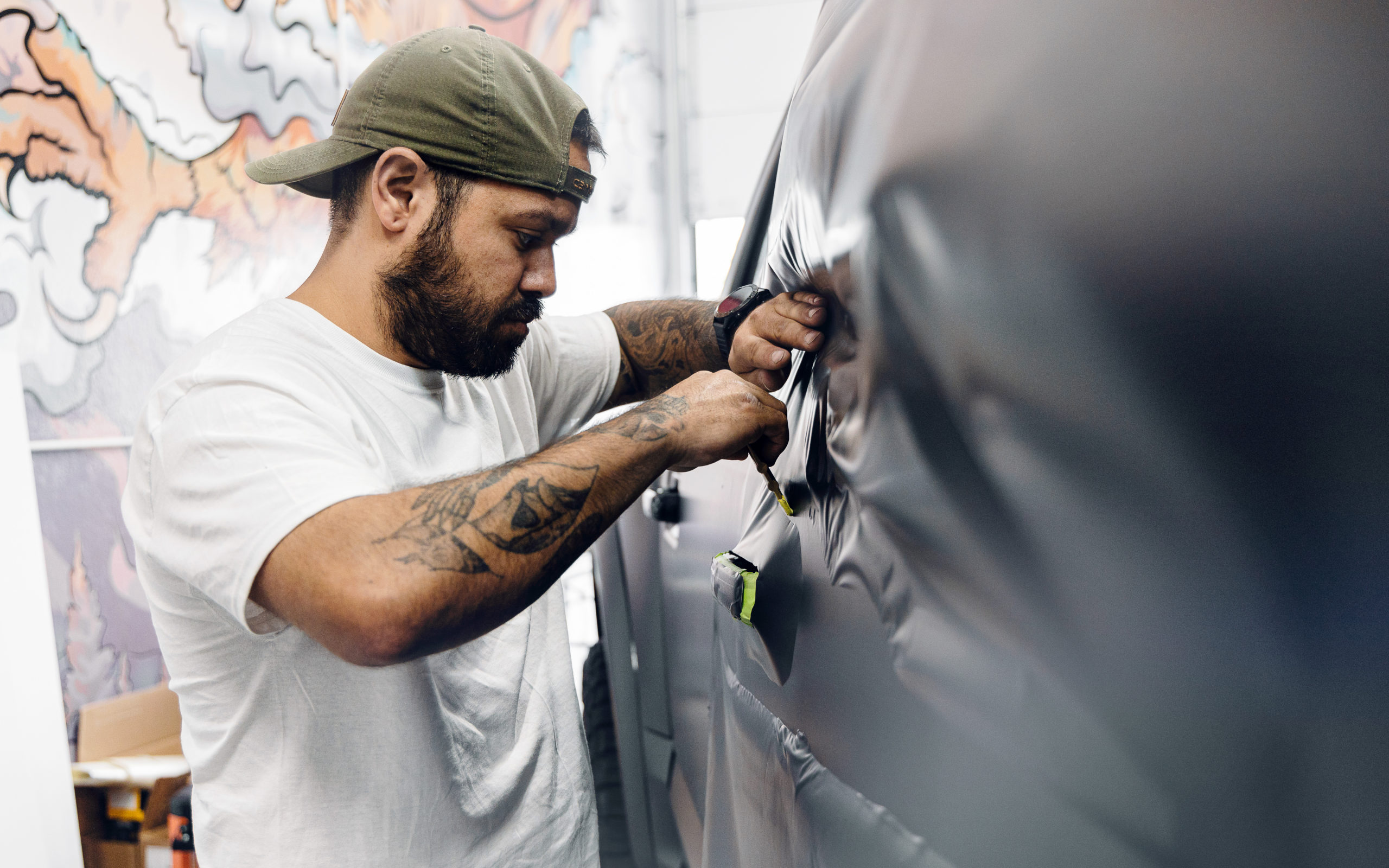 Car Wrapping Kits vs. Professional Vinyl Wraps
What's Better for Vehicle Wraps?
Did you know that the global car wrapping market was worth 4.76 billion USD in 2021?
In fact, car wrapping has become so popular that its expected compound annual growth rate (CAGR) from 2022 to 2030 is a whopping 22.2%!
The US is the largest consumer of car wraps and has gone wrap happy wrapping all types of vehicles from automobiles, to buses, RV's, boats, trucks, and more.
There are 2 main ways of having your car wrapped:
Car wrapping kits are DIY vehicle wraps that come with the vinyl car wrap and are applied by vehicle owners using application tools found in the car wrap kit.
Professional vinyl wraps are when you outsource your automotive car wrap to a company that specializes in wrapping vehicles.
Interestingly enough, when you start researching how to wrap your car, DIY vinyl wrap tool kits and professional wrap applications are often conflated, leaving people confused—so today let's clear up the difference.
What Are Car Wrapping Kits?
Car wrapping kits are exactly what they sound like. They are a kit containing all the things you would need to wrap your car, including materials and tools. You, the customer, are the one to install the material, which can be difficult to work with if you have not worked with it before.
Styles Available
There are various styles of vinyl wrap available. The type you choose will be based on the look you want.
Some of the more popular choices for vinyl car wraps are:
Carbon Fiber Vinyl – Carbon fiber is a textured vinyl wrap that resembles actual carbon fiber. It certainly elevates the look of your vehicle and as it comes in various weave patterns, there is a lot to choose from.
Matte Vinyl – Matte provides a very different look than a shiny high gloss vinyl. Matte vinyl doesn't reflect light but instead absorbs light. The matte vinyl tend to accentuate car lines—which can look great on some sports cars and provides a sleek and sophisticated look. One potential downside to matte vinyl wraps is that they do require a more rigorous cleaning schedule than their glossy counterparts.
If you like the matte look but want a tiny bit of shine, the matte metallic wrap contains tiny metallic particles that give the matte wrap more depth.
Chrome wraps – Chrome vinyl wraps are the most expensive wraps on the market. Hard to work with, it is highly recommended that you seek out a professional for installing chrome wrap material. This very unique look will have your car looking like glass. With Chrome vinyl, you'll want to consider using paint protection film (PPF) which will keep this wrap protected and looking its best for years to come.
Application Tools Needed
As mentioned above, DIY car wrap kits come with a variety of application tools. Most kits, include the various tools below to help DIY enthusiasts wrap their own cars:
Felt squeegee
Wrap gloves
Heat gun
Scraper
Utility knife
and more…
All of the tools above are included to help make the DIY car wrap easier to install with minimal time and effort.
Pricing
If you decide to wrap your own car, prices can vary from the low end at about $500 to the high end at around $2500.
Of course, the most expensive part of the DIY option is the cost of the vinyl material.
The vinyl itself can run between $200-$1500+ and that will depend on the material you choose, how high-quality the wrap is, and how big your car is.
Don't forget to factor in the amount of time it will take you to wrap your own car. If you've never done it before, it could be more difficult than expected and you may run into a few obstacles along the way that could cost you more in the long run.
One issue some DIY'ers have run into is that if you make a mistake, vinyl wrap is not very forgiving. You can potentially wreck the vinyl and need to order new material to try again. Many DIY jobs end up with minor bubbles and imperfections that could have been avoided if the material had been installed by a professional.
What Are Professionally-Installed Vinyl Wraps?
Professionally-installed vinyl wraps are high-quality vehicle wraps installed by expert installers.
These professional installers have done hundreds of car wrap installations and have worked with even the most challenging of materials such as carbon fiber vinyl wraps and chrome vinyl.
When done right, these more expensive materials yield some spectacular results but again, if going this route, it's imperative that the wrap application is done by a professional.
Styles Available
When going with a professional installation, you will be assured that what you imagine for your wrap is what you will get as the end result. They can also design and create essentially anything you want.
Through a simple process in which you get matched with a designer, you will have the opportunity to:
Discuss your vision for your wrap.
Discuss the styles available and what would look best for your particular vehicle.
Get recommendations from their years of experience in the industry.
For example, not sure which look or styling would be good on your specific vehicle? Wondering if you should wrap your headlights, window tint film, change your car windows, or go for a complete color change? Experts in the industry will share their thoughts and walk you through your options.
Application Tools Needed
One of the best parts of hiring professionals is that you will not need to do anything other than supply your vision for the car wrap.
From there on, your design team, like the one at Wrapmate, will take your vision and make it a reality. Throughout the process, you will also have the opportunity to work with your design team and make revisions ensuring that you get exactly what you want.
Pricing
Using a professional company to wrap your car will cost about $2000- $5000 to wrap your car.
Getting a free quote is easy. Using online tools, like the one Wrapmate provides on their site, it takes a couple of minutes to get a quote for the exact make and model of your car.
You can try it here.
Not only that, but Wrapmate offers payment plans to make wrapping your vehicle incredibly affordable.
Get the Wrap of Your Dreams with Professional Designs from Wrapmate
Wrapping your car is an exciting project—and one that more and more consumers are choosing to do.
To ensure you get the look and feel you want, it is always best to go with a professional installation. Using a professional service like Wrapmate, with expert designers and installers all over the country makes the process enjoyable and stress-free. Plus with a satisfaction guarantee, you can feel safe knowing that your vehicle is in good hands.
Also, don't forget you can take advantage of their payment plan options and wrap your vehicle in the design of your dreams while keeping it affordable for any budget.
Ready to wrap your car?
Use Wrapmate's online calculator to get your free online quote—it only takes a few clicks of a button and a couple of minutes to discover how easy it is to get your wrap on the road!
---
Ready to get your vehicle wrapped?
---