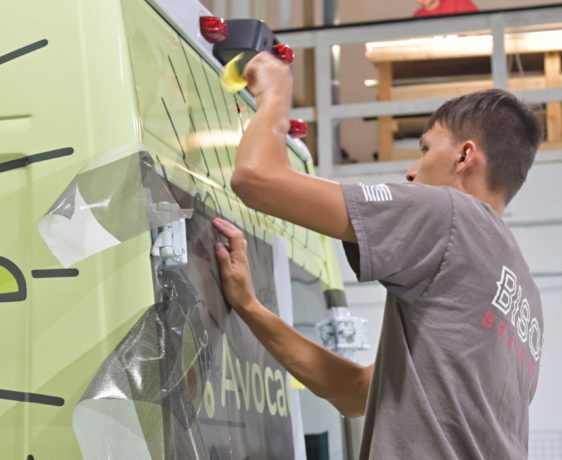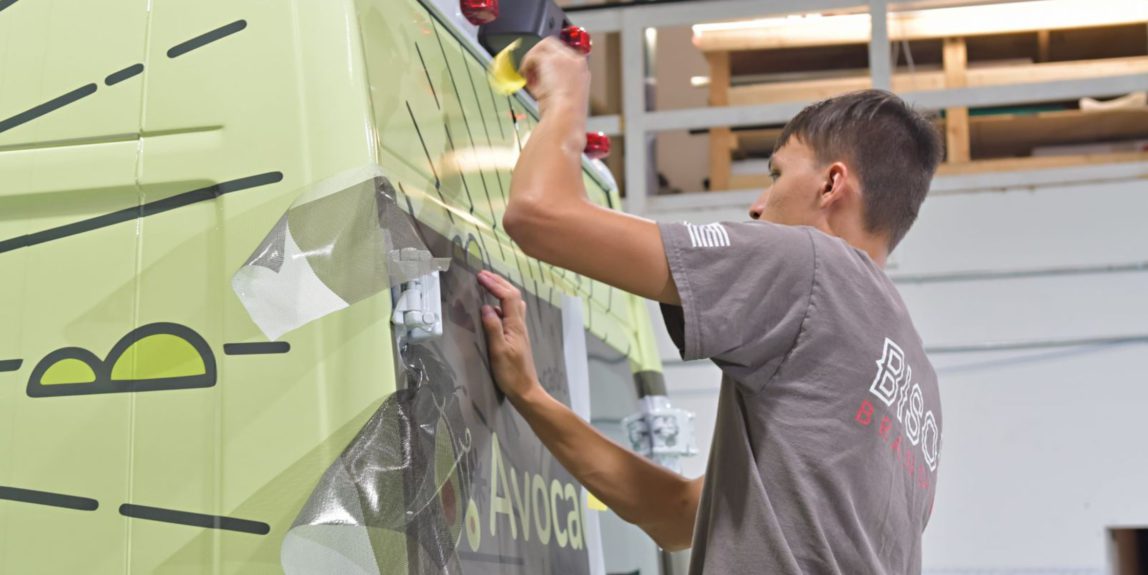 Vinyl Wrap Installation Methods – Professional vs. DIY
The new look of a freshly wrapped vehicle can't be beaten. When you roll by, you'll see bystanders crank their heads to check out your ride. If you like attention, you'll love the feeling you get from a car wrap.
And if you run a local business, a standout, custom-designed wrap on a vehicle will ensure that the business being promoted is remembered and recognized.
If you're not familiar with vinyl wraps, they are a high-quality, vinyl film that is applied to the exterior of a car. With all kinds of colors, patterns, and endless designs to choose from, you can change the look of your car drastically, quickly, and easily for a lot less than a new paint job.
Inevitably, when vehicle owners start looking into the idea of the wrapping process, the question that comes up is, "Do you hire a professional or try to DIY?"
That's a great question.
There are more than a few complications that might arise during a wrap installation, such as:
Air bubbles forming
Heat gun damage on the paint
Scratching your paint job
Miscalculating the amount of material needed
Poor quality vinyl material from 2nd-rate vendors
Wrinkles and blips
And more…

With these complications in mind, there are some things to consider if you plan to try to wrap your car yourself—although with the right planning and preparation it can be done.
In this article, we will review the vinyl wrap methods used by both professional and DIY installers to help make an informed decision on how to proceed with your wrap job.
Professional Vinyl Wrap Installation
There are many steps involved in a vinyl wrap installation.
Before a professional installer even touches your car there is the entire planning, design, and prep process that comes first.
There are many options to consider beginning with the actual design placed on the vehicle wrap. Consider what looks good on the type of vehicle you have, the curvature of the exterior of the car, its current condition, and the various types of materials available to choose from (matte, chrome vinyl, carbon fiber, etc).
All of these things are discussed beforehand when you work with a professional installation team. When wrapping a car, working with a professional team that can guide you through this process can be very helpful—from the design to the installation, you can trust you'll have feedback and advice at every stage of the process.
Advantages of Professional Installation
The advantages of having a professional installation cannot be underestimated.

First, it's just so simple. You don't have to do anything except bring in your car.
A vehicle wrap installer will have hundreds of hours of practical experience wrapping various types of vehicles. You can be sure that this experience will be reflected in the result of your own wrapped vehicle.
Things like working with all the curves and creases in the vinyl wrap or knowing exactly how much to stretch the vinyl post-heating are why you work with a professional—the quality can be assured. You will end up with a perfect application.
They will also know the potential issues of a job before they start (like how to handle minor dents and imperfections) and will also know how to deal with issues in the wrapping process, saving you both time and money.
Another advantage of working with a professional installer is the warranty that comes with every installation. Wrapmate, a leading company in the car wrap industry provides a satisfaction guarantee: "If you don't love it, we'll take care of it!"
Steps to Professional Installation
Taking steps to a professional installation is easy and quick.
Every step is transparent, and there is a set method so you know what to expect every step of the way.
Consult with a car wrap installer: For example, with Wrapmate, getting a free online quote takes only a few minutes. With a click of a button, you will know exactly what a vehicle wrap will cost.
Decide on your wrap design: Do you have a particular vision in mind for your wrap job? Do you have a business to promote or are you just interested in a color change to jazz up your car and turn some heads?

Whatever you want for your car wrap, you can work with professional designers who can take your vision and translate it into your car wrap.

Revise until you're satisfied: When you work with professional designers, it's important that you can revise until you are fully satisfied. Make sure to work with a car wrap installation company that provides unlimited revisions.
Armed with the above list, make sure to choose a company that provides all those things.
Companies like Wrapmate have streamlined the process and made it easy for the customer!
DIY Vinyl Wrap Installation
On another note, if you are a first-timer and are considering doing the vinyl wrap installation yourself, here are a few tips to get you started:
Advantages of DIY Installation
Doing the car wrap installation yourself will save you money. The most expensive part of the vehicle wrap process is the labor.
Of course, it makes sense since a professional installer has hundreds of hours of experience and practice. Using a professional installer ensures that at the end of the day, your car looks how you want it to without any added stress.
However, another advantage of a DIY installation is you set your own schedule. You set the pace while using your own choice of materials, looking for the best prices, and buying them from online stores like VViVid or Amazon.com.
What You Need for a DIY Vinyl Wrap Installation
If you are doing your own DIY vinyl wrap installation, you'll need the right tools.
Please note that the items in the list below, though not necessarily expensive, do add to the overall cost of the project.
It is also not an exhaustive list, as you may require more items than the ones listed below for your own personal wrap project.
The cost of these tools should be factored in with the price as a determining factor in choosing a professional installer vs. choosing to install the wrap yourself.
You also need to consider the possibility of wrecking the wrap and needing to re-order more if things go sideways. With that said, here's the list:
Vinyl film
Heat gun
Cleaning materials (isopropyl alcohol, squeegee, lint-free cloth, wax remover)
Lint-free wrap gloves
Cutting tape
Tape-measure
Scapers
Stainless steel blades
Felt-edge squeegee
Spray bottle
Microfiber towels
Help from a friend if this is a 2-person job.
Steps to DIY Installation
If you decide to take on the vinyl wrap installation yourself, here is a quick overview of the steps you will need to complete to ensure a great result.
1. Gather Your Wrap Materials (see the list above)
Be sure you are working in a clean and dust-free area. Remember, any dust will show up in your vinyl wrap. The environment is key.
Next, you need to clean your car thoroughly with all the cleaning materials you purchased. You need to make sure that the exterior of the car is clean and free of any dirt, dust, or contaminants. If you were in the habit of waxing your car, you will need to make sure that you remove all the wax with a wax remover.
Once the car is completely clean, remove anything that would hinder the installation and access to the edges. Once you've done that, you can now apply the vinyl.
2. Lay Your Wrap Smoothly.
When applying the vinyl you have one shot to do it correctly.
The vinyl wrap needs to be heated to the correct temperature and stretched. If you are a first-timer, be careful to not overheat and overstretch the vinyl. This will make the wrap job even more difficult, and you will notice that you may need to start over again with new vinyl post-heating. You may want to have a friend on standby to help hold things in place.
3. Finalize the Wrap
Once you are done laying the vinyl, work with the piece of vinyl until everything lays beautifully and hugs each and every single contour and curve, making sure that no air bubbles form. You've done it!
Get Vehicle Wraps Done Right with Wrapmate
The wrapping process is a difficult one.
Without the proper practice, if you are installing vinyl wrap for the first time, you may find yourself in over your head.
For a hassle-free, satisfaction-guaranteed job, get your vehicle wraps done right with Wrapmate.
Using our free, online tool, get a quote in a matter of minutes and start working with an expert designer who will have your wrap visions come to life.
Whether it's a distinct color change on your vehicle or you are impressed that 98% of Americans said they notice wrap advertising and want to grow your business with a custom wrap, you can have your design professionally installed with zero stress.
You're just days away from putting your brand new car wrap on the road—get your free quote now.
---
Ready to get your vehicle wrapped?
---