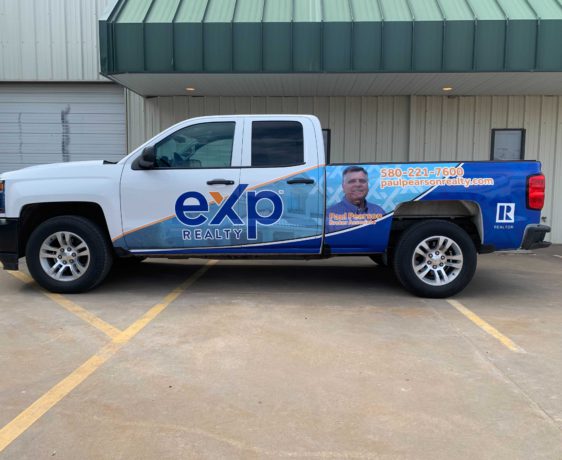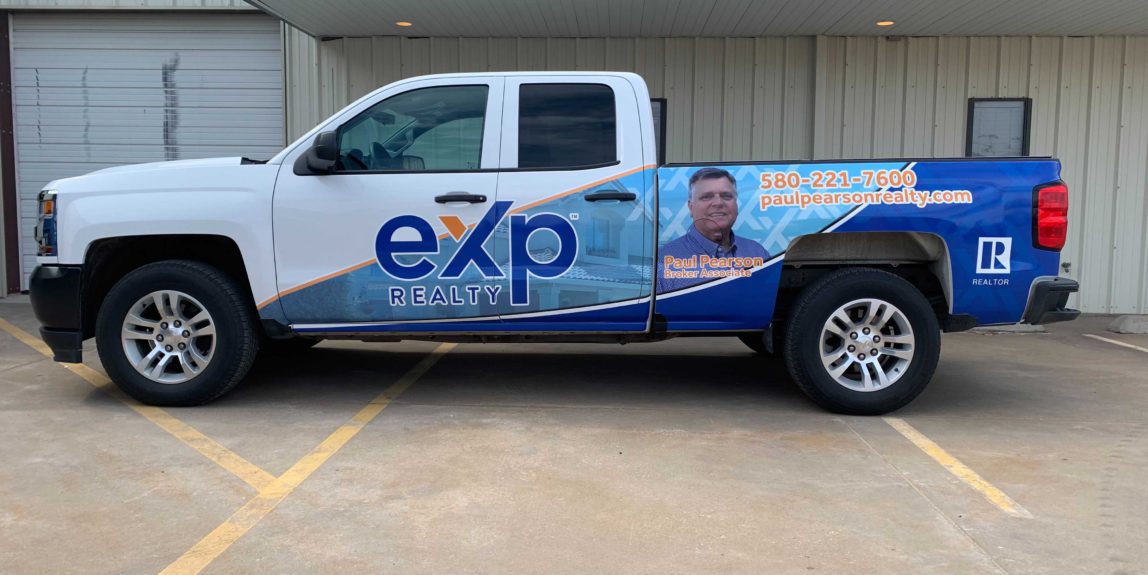 Custom Real Estate Car Wraps to Capture More Business
Vehicle wraps are a form of mobile advertising where a vinyl wrap is applied directly over the original paint coat. This cost-effective way to gain exposure also protects against the elements, debris, and scratches, and is removable for change-outs.
At Wrapmate, we work with all sorts of real estate agents and other home service businesses who want to better establish themselves in the minds of potential customers. Through increased public visibility, they are able to grow their business.
Vehicle wraps offer low upfront investment, long-lasting durability, and a wide range of creative possibilities.
Why Should Realtors Wrap Their Vehicles?
A wrap essentially turns your vehicle into a mobile billboard, and this innovative approach to advertising attracts more attention and is more memorable than traditional roadside marketing. In fact, a vehicle wrap is the most cost-effective marketing strategy right now.
The U.S. has high traffic density, and our road networks provide an estimated 30,000 to 70,000 impressions per day for mobile advertising.
The price of a vehicle wrap roughly translates to $0.07 for every 1,000 impressions. And we have tracked a great average ROI of 3,400% over the course of two to three years.
This form of advertising does not involve any recurring costs, and the upfront investment is minimal compared to channels like newspapers, television, and social media platforms.
Especially for realtors, installing a vehicle wrap offers significant benefits. As they say — out of sight, out of mind. And in such a competitive industry where face and name recognition are key, boosting exposure is key.
Realtors spend plenty of time out in the field for home inspections, stagings, appraisals, demonstrations, and open houses. And since lack of targeting is the number one factor that reduces visual advertising effectiveness, strategically parking in the driveway, parking lot out front, or in crowded areas nearby is free additional advertising.
With an eye-catching wrap on your van, motorists, pedestrians, and anyone with a roadside view can see your branding and be reminded of your business. Even parked, your vehicle wrap will continue to gain impressions.
What's more, the recall rate for mobile advertising has been shown to be significantly higher than for static signage. This makes a vehicle wrap perfect for promoting your business and standing out from your competitors.
An informative, attention-grabbing, and professional vehicle wrap is bound to generate new leads and position you as the go-to professional in the community.
Show off bold new graphics or take a more subtle approach with spot graphics or a transparent wrap. This more minimalist approach attracts attention to a few well-placed design elements and necessary information like your logo, phone number, website, and social media handles.
Go for vibrant colors or earthy palettes and subtle gradients. We can recolor the vehicle, do sensational all-over patterns, or form a subtle backdrop for your company information.
With Wrapmate, you will be working with a professional graphic designer that will tailor the design to your specific needs. Our 3M foils offer a luxurious aesthetic, with options like satin-gloss, matte, pearlescent, or metallic.
Our wraps are made from durable vinyl and will help protect your vehicle from dings and scratches.
In addition to full wraps, partial wraps are another popular choice. These include quarter-panel or half-and-half wraps. They're applied the same way as a full wrap, but they cover only the rear section or one side of the vehicle. This uses less material and can be a great option for some realtors.
If you strategically park a half-wrapped vehicle facing a specific direction, your branding can be optimally displayed for passing traffic.
By opting for one of Wrapmate's high quality materials and crafting the design you want to perfection, you can boost your public image as a professional in your industry.
In addition to creating a vehicle wrap to act as a mobile billboard for your business, Wrapmate can also supply wall graphics or portable exhibition display boards for your realtor office.
How Much Do Real Estate Car Wraps Cost?
The total cost of a car wrap can start as low as $1,000 and go up from there. The cost is calculated by square footage, so once we know the exact size of your wrap we will promptly respond with an accurate pricing. Wrapping a car doesn't require any disassembly of your vehicle, and in most cases you'll pay less for a car wrap than you would for a repaint.
Wrapmate has a vehicle wrapping calculator that helps us determine the exact price of your wrap. You can enter whether you want spot graphics or decals, partial wraps, and full car wraps.
Once you decide which type of wrap is best for your business, Wrapmate's seamless online ordering process will guide you through the steps to kick off the project.
Does Wrapmate Design and Install Car Wraps?
In short, yes. Wrapmate has everything under one roof and offers customers a seamless experience from start to finish.
We have professional graphic designers who will work with you to create a custom-designed wrap to suit your brand. You can expect a design that you can confidently display on your vehicle. If you aren't satisfied with the initial design, our in-house team will further collaborate with you to make changes to the design before the wrapping process begins.
When it comes time to wrap your vehicle, our account managers will help with the coordination, scheduling, and installation of your wrap. We specialize in home services and only use 3M wrap film, which is the highest quality and will help protect your car paint.
Why Real Estate Agents Love Our Wraps
In addition to cutting-edge designs, lower costs than vehicle paint, and the speed of the wrapping process, realtors love our wraps because of the ease of the experience and flexible payments.
An account manager from our nationwide Wrapmate Pro network will be with you every step of the way. Your account manager will keep a panoramic view over the project and ensure a smooth process.
The stress-free experience extends to our end-to-end digital platform. In a first for our industry, we offer financing with flexible online monthly payments. And satisfaction is guaranteed — if you don't love your new wrap, you get your money back.
Get Your Custom Real Estate Car Wrap with Wrapmate
To get started, visit Wrapmate.com and click on "Get your exact price." There, you'll input your vehicle information. If you can't find your vehicle in our calculator, we can still wrap it!
Once you've entered your information, decide how much coverage you want on your vehicle. The images should give you an idea of the size of wrap you will need.
Our sales team will then contact you to further discuss the project. An initial deposit of $299 is required to start the design process. However, this deposit is refundable.
Wrapmate offers an all-inclusive process from design to realization, and a stress-free, flexible online payment system that sets us apart in the vehicle wrap industry.
By expertly applying your wrap, our team of installers at Wrapmate will prevent unwanted effects like peeling, fingering, and air bubbles, so as not to compromise the professional look of your vehicle. With our wraps, your vehicle will exude professional quality and a personal, trustworthy image for your real estate business.
---