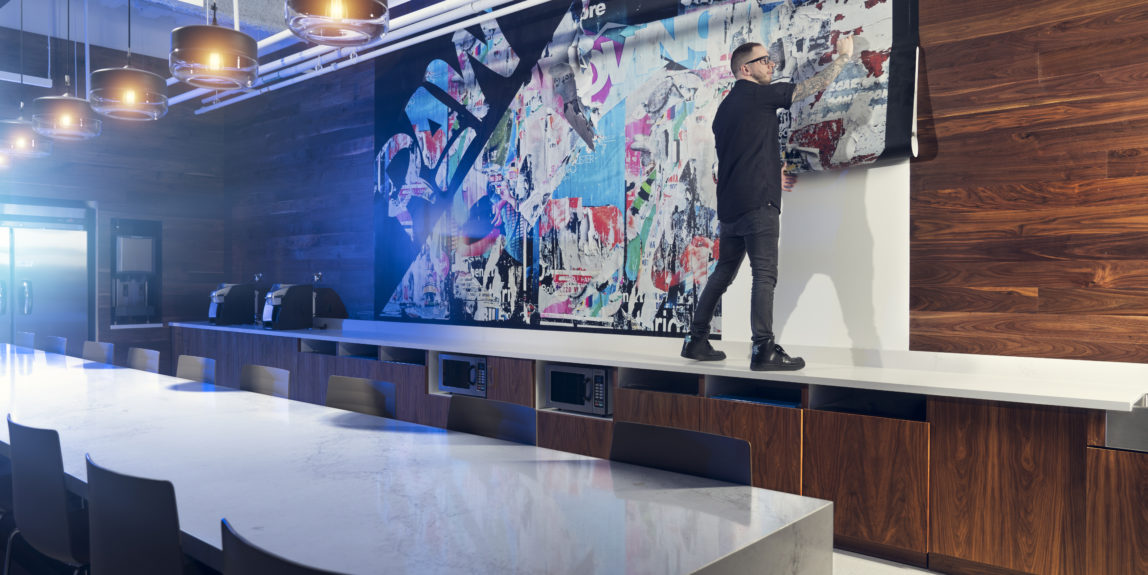 How Wall Graphics Maximize Brand Impact
Wall graphics create endless possibilities to help enhance any space or environment. With limitless options, custom wall graphics positively increases the look and feel of office spaces, improve marketing and promotions for retail locations, and add a much-needed feel to restaurant and entertainment facilities. Just like every business is unique, every interior wall graphic is also unique.
What Wall Graphics Can Do for Your Business
The right types of wall graphics can help attract the right customers to your business, therefore creative custom wall graphics and window decals can establish automatic brand recognition amongst passersby and create a very memorable visual experience for your customers that they will forever connect with your business. In addition, wall graphics can be customizable to the extent that they can either be permanent or semi-permanent for your marketing and promotion needs. Not only does this offer a great deal of convenience, wall graphics are also environmentally friendly. For instance, semi-permanent vinyl graphics can be used for recurring events such as annual back-to-school or holiday campaigns and can easily be taken down, stored, and reinstalled for the following year. This is a true sign to the durability, maintained and savings this type of signage offers. Of course, even permanent interior or exterior wall graphic are highly affordable and of the best quality.
The Advantages of Different Types of Wall Graphics
Whether you are looking for an detailed design or a minimalistic feel with your decoration, there are many advantages to using any one of the following types of wall graphics:
Flat Vinyl Graphics: Find the right vinyl for your project. For most interior walls and decoration, flat vinyl with a matte finish and removable adhesive is recommended.
Wallpaper: Wallpaper is much more durable today because of the advanced materials and types of paper that it is composed of, and is easy to maintain and keep clean. There are many different types, patterns, textures and widths to choose from depending on the style you are trying to transfer.
Acrylics and Metals: If you are looking for a polished, futuristic 3D effect then acrylics and metals are the right choice. To make a true impact, you can use any type of hanging equipment.
---
Ready to get your interior wall graphics?
---