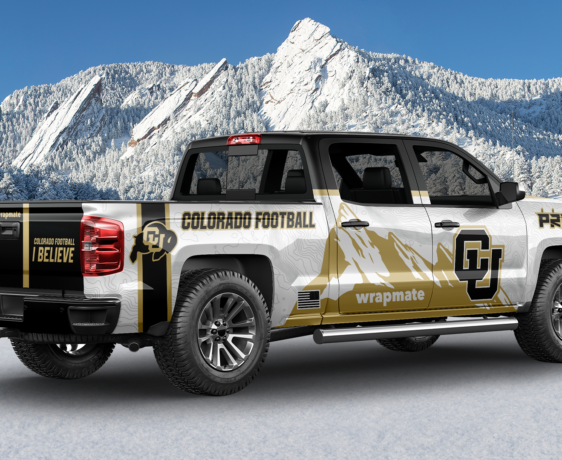 Wrapmate To Support Coach Prime and Colorado Football With 25+ Wrapped Vehicles
Wrapmate is an award-winning national vehicle wrapping tech company that is proudly headquartered in Colorado. They are on a mission to revolutionize how vehicle wraps are bought and sold.
Like most of the nation, we've been watching Coach Prime and the Colorado Buffs transcend the college football landscape. Record-setting viewership. National media attention. Celebrities at Folsom Field. The Coach Prime Effect is real.
We saw an opportunity…
"Our customers can get real-time pricing and buy their wraps, from the comfort of their home. This is a game changer. Plus, they have access to world-class vehicle graphic designers to promote their brand or customize their ride. I wanted a creative and unique way to demonstrate our support of Coach Prime and the Colorado Buffaloes," says Javier Lozano, Jr., CMO of Wrapmate.
What better way than to custom design and wrap Javier's 2019 Ford F250 with one of our biggest and boldest wrap designs ever?
This Colorado Football truck wrap design was created by Wrapmate's lead graphics designer, Travis Olsen. He was inspired by the Buffs' new uniforms. Very modern and bold.
Featured on Fox21 News
Wrapmate's CMO, Javier Lozano, Jr. is an alum of the University of Colorado, and when word got out that he was wrapping his Ford F250 truck with Colorado Football and Coach Prime-inspired designs — sports anchor Abbi Bennet of Fox21 News picked up the story.
Fox21 News is located in Colorado Springs, and Abbi Bennet has been covering the Colorado Buffaloes and Coach Prime since the beginning of the season.
But why would we stop there…?
25 Wrapped Cars and Football Ticket Contest
We wanted to go big. Make a statement. So, our team at Wrapmate decided to wrap 25 cars with motivational Coach Prime-like slogans. The well-branded cars will SWARM Boulder during game days.
To top it off… Wrapmate will also be hosting a contest. The winner gets 2 tickets to the last CU Buffs Football home game on Saturday, November 11th, at Folsom Field.
Why… why are we doing this?
We are truly inspired by Coach Prime and the CU Buffs. However, rumor has it that Wrapmate's CMO is also an alum of CU-Boulder… go figure.
"I was ready to put some pads on and run through a brick wall," said Javier after he heard Coach Prime's first pre-game speech to his team against TCU. "The idea started with just wrapping my truck. Then, it expanded to 25 vehicles, swarming Boulder. It's safe to say we believe in Coach Prime."
Wrapmate's Colorado Football Wrap Campaign
Starting Friday, October 13th, 2023, 25 wrapped vehicles will SWARM downtown Boulder during their home game against Stanford.
Each week after that, during game days (home or away), those same 25 vehicles with Coach Prime-like quotes will continue to inspire the CU Buff fans by driving in and around Boulder as well as Denver.
And, if you're lucky – you might find Javier's Ford F250 truck wrap driving around Boulder.
How To Win 2 Free CU Buffs Football Home Game Tickets
Step 1: Follow Wrapmate on Instagram @wrapmate
Step 2: Post a picture on Instagram of one of our wrapped cars out in the wild, during game days, or while SWARMING in Boulder or Denver
Step 3: Tag 3 friends who are Buff fans and tag @wrapmate
Step 4: Use hashtag #WrapmateBelieves
Click on the link to learn more about the official rules for the Colorado Buffaloes Football Tickets Giveaway by Wrapmate.
About Wrapmate
Wrapmate is a technology-driven managed marketplace that is reimagining the buy-and-sell experience in the vehicle graphics industry. With innovative customer interaction and a network of 2,000+ local installation service providers, Wrapmate efficiently serves business owners, fleet managers, franchises, and consumers coast-to-coast. Learn more about Wrapmate's vehicle wraps solutions at https://wrapmate.com.