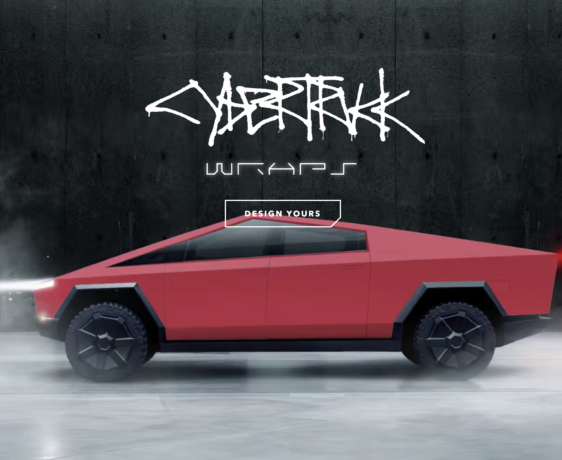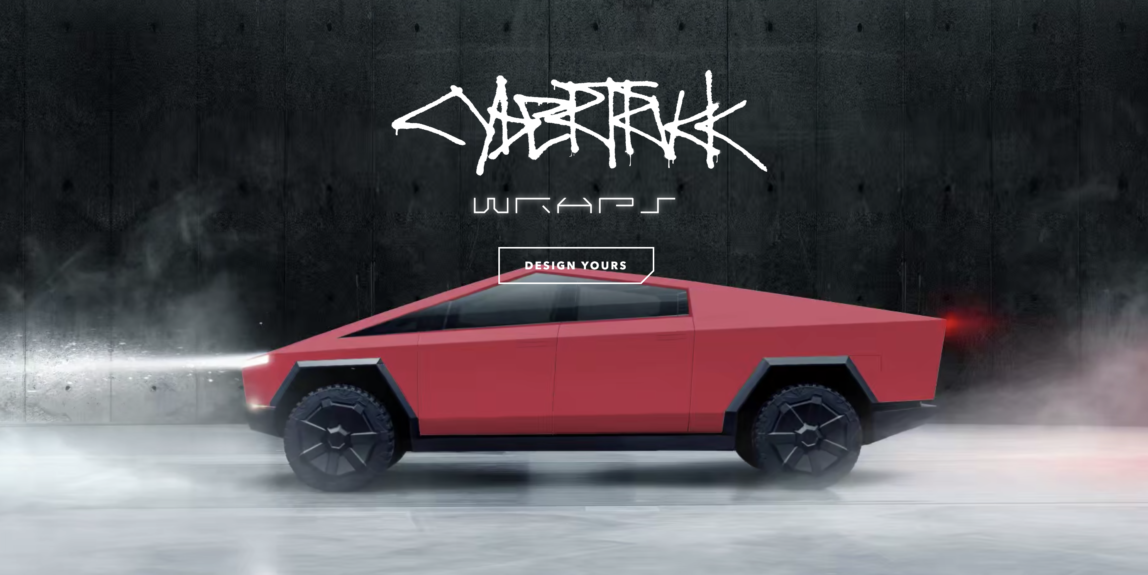 Revolutionary Interactive Tesla Cybertruck Wraps Configurator
Tesla's Cybertruck has captured the hearts of electric vehicle enthusiasts with its futuristic design and cutting-edge features. Now, Wrapmate, a technology-driven managed marketplace for vehicle graphics, is taking the customization of Cybertruck to a whole new level.
Elon Musk, the CEO of Tesla, famously stated that your Cybertruck could have "any color you want, so long as it's nothing." If you're not aware, all Tesla Cybertrucks come in stainless steel… like your kitchen appliances.
So, after hearing this Henry Ford-like statement, the Wrapmate team started to think… 🧐
Worlds Best Tesla Cybertruck Wraps Configurator
It's obvious that Tesla Model S, Model 3, Model X, and Model Y owners have a desire for individuality — hence why many owners wrap their EV in different colors or custom designs.
With that in mind, we believe Cybertruck owners will want something different from the standard stainless steel refrigerator look. So, we stepped in to create a solution that allows customers to personalize their vehicles and stand out from the crowd.
Then, we pulled an Elon Musk… and decided to take it a step further… we thought "wouldn't it be cool if customers could have a unique, fun, and interactive experience when changing the color of their Mad Max-ish EV truck?"
🤯
So we decided to create Tesla Cybertruck wraps configurator. You'll be able to unlock new opportunities by designing and purchasing your vehicle graphics, all from the comfort of your own home… just like when you buy your Cybertruck. This type of technology has been missing in the vehicle wraps industry, until now.
World-Class Cybertruck Wrap Design Experience
Wrapmate was the first vehicle wrap company ever to share exact pricing, along with a wrap visualization experience. Customers can toggle between a small wrap, medium wrap, large wrap, or full wrap — and see what the coverage could look like on their vehicle. Then, you could make your wrap purchase, online, without talking to a sales person.
That's why it was imperative to Wrapmate to give our users an opportunity to enjoy the wrap-buying process.
This e-commerce-like experience allows for a seamless and convenient design process. Plus, you'll be able to leverage our in-house world-class designers to create highly personalized Cybertruck wraps that suit your individual preferences and style.
When creating our interactive Cybertruck wraps configurator, how user-friendly the interface was played a big role in the design. Today, you can easily access our configurator by visiting our website: cybertruck.wrapmate.com. From there, you can start building and visualizing various wrap options for your Cybertruck.
Nearly 100 Wrap Colors, Textures, and Finishes
In addition, we've formed a joint collaboration with 3M. They are possibly the #1 manufacturer of vinyl films in the world. With their support, we'll be able to provide you with the highest-quality materials for your Cybertruck wraps.
With 3M Wrap Film™, you'll gain access to nearly 100 colors, textures, and finishes. This extensive selection ensures that you can find the perfect Cybertruck wrap to express your personality, promote your business brand, or simply make your vehicle stand out from the crowd.
Designed. Printed. Installed. In Your City.
In a short 4 years, we've grown our vast network of professional wrap installers to over 2,000 Pros across the country. This ensures that all Cybertruck owners can have their wraps executed with precision and expertise.
Whether you reside in New York City or Hayes, Kansas, our certified and vetted Wrapmate Pro is ready to transform your vehicle into a stunning work of art. This nationwide installation capability sets Wrapmate apart, providing customers with convenience and peace of mind.
Love Your Wrap Design. Or Your Money Back
We're always trying to find a way to enhance the customer journey. Wrapmate is the first (and only) vehicle wrapping company that offers a Satisfaction 100% Guarantee. "Love your wrap design, or your money back". No questions asked.
To start your Tesla Cybertruck wrap, we take an Initial Project Deposit that is fully refundable. This allows you to place an initial deposit without any financial risk — sorta like how Tesla took deposits for the Cybertruck. This provides you with the confidence to proceed with a highly personalized Cybertruck wrap.
We're committed to you and dedicated to delivering exceptional results.
The Future of Tesla Cybertruck Wraps
Wrapmate's interactive Cybertruck wraps configurator is set to revolutionize the way Cybertruck owners customize their vehicles. By late summer of 2023, you'll will be able to purchase your Tesla Cybertruck wrap from our interactive platform — as long as the Cybertruck is available for sale on the market.
As more Cybertruck owners discover the benefits of our solution, the demand for personalized vehicle wraps is expected to soar.