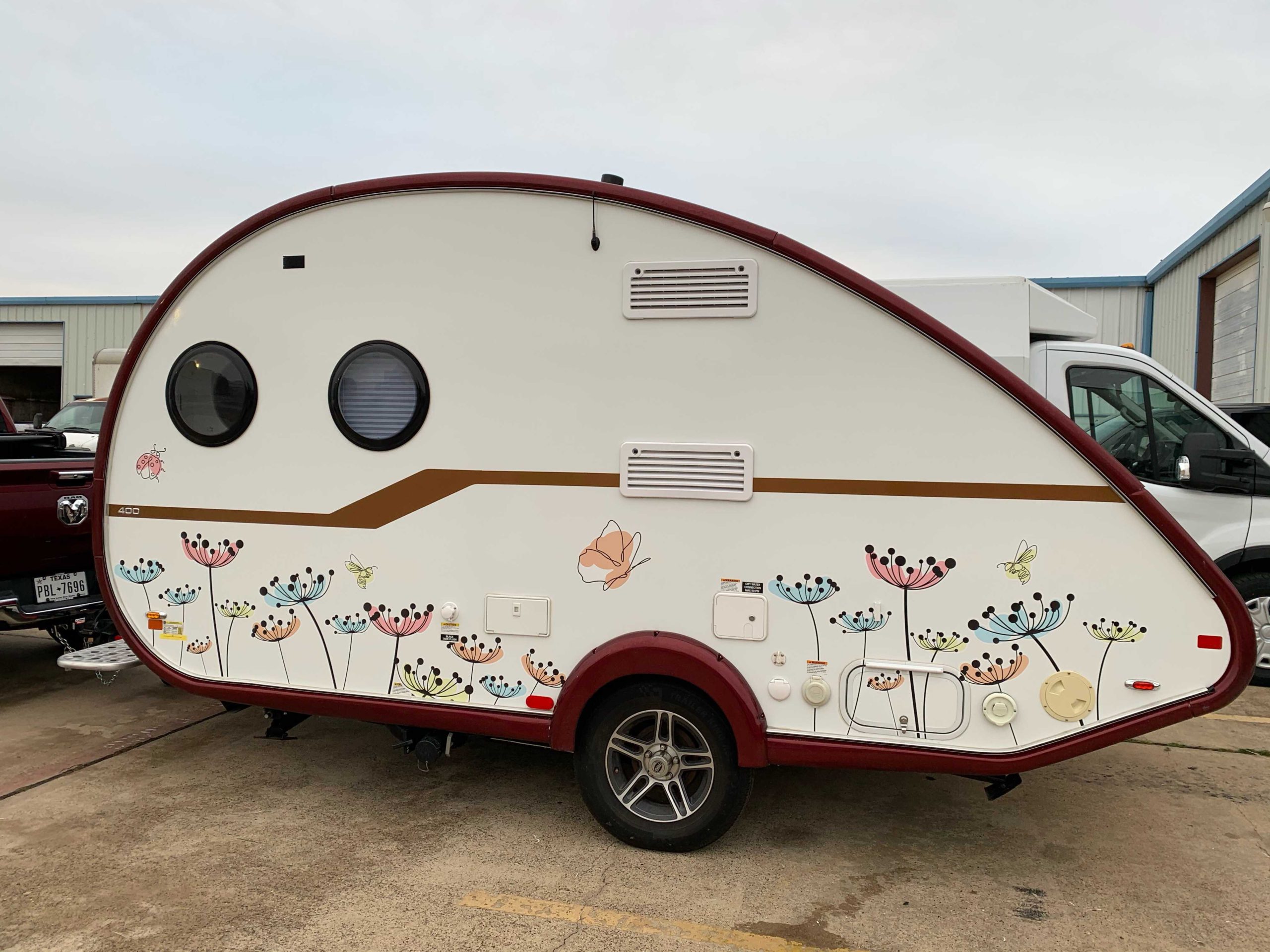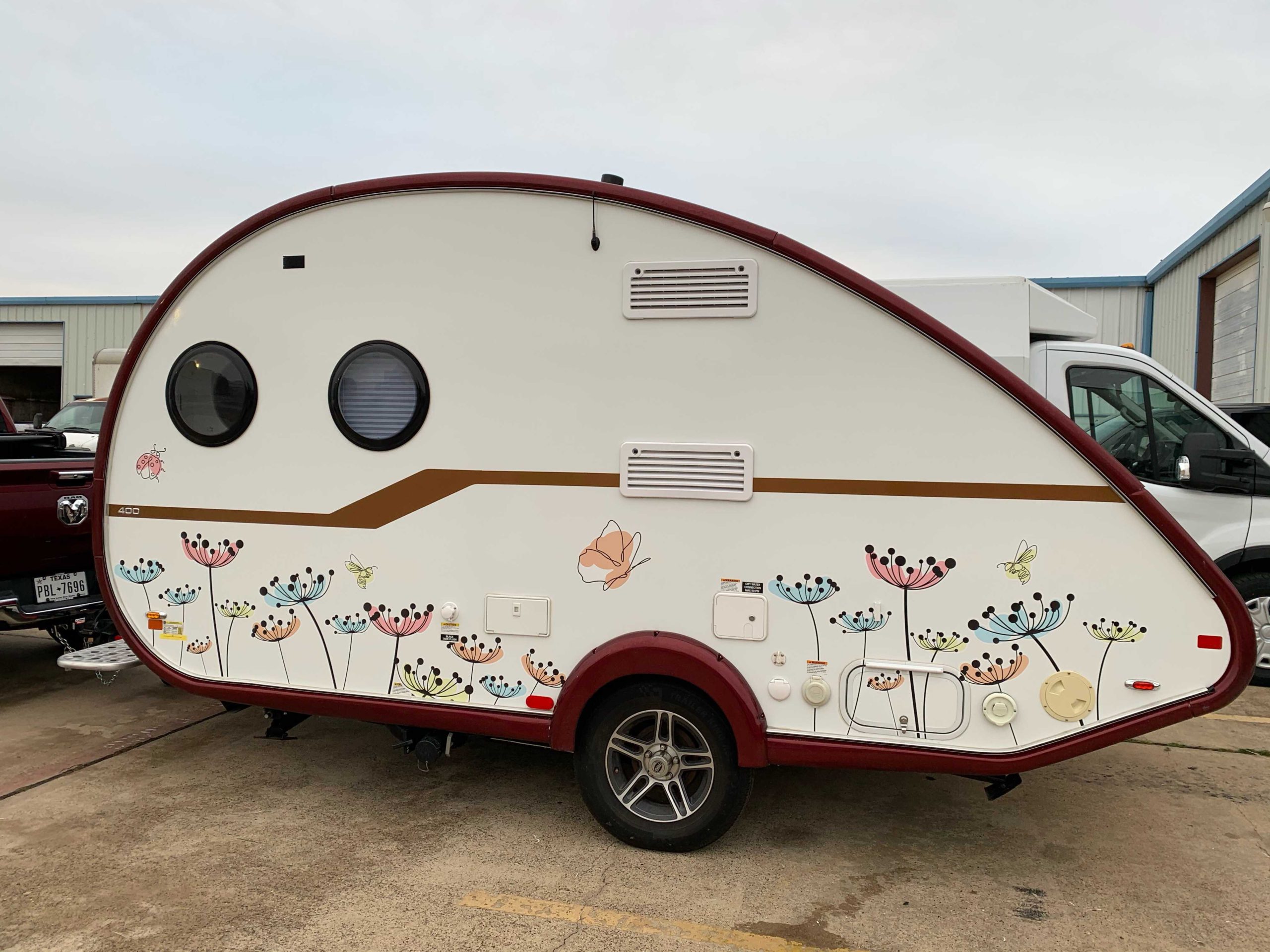 Custom RV Wraps to Get Your Business Attention
One effective way to grab the attention of potential customers is to custom design an RV wrap made specifically for your motorhome, camper, or travel trailer.
RV wraps can be thought of like a giant sticker that is placed over the existing paint of your car depicting RV graphics that you custom design. These vinyl graphics illustrate a wrap design that showcases your personality and can draw attention to an important message you want to share.
Types of RV Wraps
Motorhome Wraps
There is nothing quite like the adventure of hitting the open road in your motorhome.
Many new RV owners see their motorhomes as an extension of themselves and want to illustrate their unique personalities with a custom design wrap.
Whether you decide on a full wrap, partial wrap, or simple decals to change the outside appearance of your motorhome, Wrapmate is ready to make your dreams come true.
In fact, our designers are here to make sure that the wrap that ends up adorning your vehicle is one that you are sure to love!
Camper Wraps
Campers, which are often attached and towed by other trucks, carry the amenities of a home (think a smaller version of a motorhome). These vehicles look great with a custom RV wrap made to grab the attention of your business.
Any wrap design can go right on top of any existing paint job making your camper, even if on the older side, look clean, sleek, and ready to hit the road in style!
Travel Trailer Wraps
Travel trailer wraps are another vehicle that is often wrapped for advertising purposes.
The messaging and design elements of the vinyl graphics you apply to your travel trailer is only limited by your imagination—the sky's the limit!
Trailers can be wrapped with minimal disruption to your lifestyle.
Our RV Wrap Designs Are First-class
Protects Your Motorhome
One of the main benefits of applying a vinyl wrap to your motorhome is the protection it offers.
Applying a vehicle wrap to your motorhome it protects the underlying paint job, keeping it safe from the sun's rays and from everyday nicks and scratches.
And if you decide you'd like to remove the wrap, because it's not permanent, it removes easily and cleanly without ever damaging the original paint job underneath.
These are both solid benefits for motorhome owners.
Only High-quality 3M Vinyl
Some people worry about the quality of a wrap and how it will look, but at Wrapmate, we only use high-quality 3M vinyl.
3M vinyl is known for its impeccable durability, unmatched color selection, and easy installation. Wrapping your camper, travel trailer, food truck or even Winnebago in this material will result in a high-quality wrap that can last for a decade.
Plus our professional installation ensures your finished product will look exactly how you envisioned it.
The Custom Design of Your Dreams
At Wrapmate, we want you to get the custom design of your dreams.
When you decide to work with Wrapmate, we match each customer with a professional designer who will revise with you until you are satisfied and are pleased with the final result.
You will be asked a series of questions about your company. We want to know about your unique message, your website, logo, and social media handles.
This is so we can create a picture and design something perfect for your vehicle—something you love!
Why RV Lovers Choose Wrapmate for their RV Graphics
The Industry's Only Car Wrap Financing Plan
Wrapmate provides the only car wrap financing plan in the industry. That means that if you are unable to pay for your car wrap in full (or you want to defer payments for a strategic reason), Wrapmate will work with you to create and install the wrap of your dreams NOW, when you want it most. With generous financing plan options available, you can get the graphic you want now.
Satisfaction Guaranteed or Your Money Back
At Wrapmate, our philosophy is: If you don't love it, we'll take care of it. We believe that our customers should be 100% satisfied and if you're not, we will work with you until you are or your money back.
Wrapmate Pros to Apply Your RV Wrap
Wrapmate has professionals who can install your wrap perfectly without bubbles or imperfections – anywhere in the United States. It's important to have wrap material applied by professionals because a non-professional can easily make a mistake.
Account Managers Dedicated to Your Wrap Design
Wrapmate wants to take the stress and hassle out of getting your car wrapped.
One of the benefits of working with Wrapmate is that we assign a dedicated account manager to your account. This way, you are always in communication with someone who has seen your project through from the initial stages to the very end.
RV Wrap FAQ
How can I get a free quote for Wrapmate?
Getting a free quote is a simple and stress-free process.
Using the online tool, all you need to do is answer a few simple questions such as what you want to wrap (car, trailer, etc.), the size of your vehicle, and a few specifics about your wrap ideas. Then you will get a free quote on the spot. This saves you time and ensures that you get an accurate quote within minutes.
Are RV wraps cheaper than new paint jobs?
Yes, RV wraps are cheaper than new paint jobs.
A new exterior paint job for your vehicle can cost up to $4000 for a full paint job versus $2000 for a full car wrap. For an RV, the price of a paint job skyrockets.
Not only that, but the time to paint versus the time to install a car wrap is much longer and results in more time without your car.
How long does an RV wrap take?
Once the design has been approved, it is only a short time before the design becomes a reality.
The next step to getting your car wrap on the road is to arrange a time with one of our professional installers. With professional installers in areas all over the country, finding a Wrapmate pro is easy.
Once your car is brought in, the actual installation often takes one day no matter what type of vehicle is being wrapped from motorhome, camper, travel trailer, food truck wraps, boat wraps, or bus wraps!
See Why Our Customers Love Wrapmate
With an incredibly simple and straightforward process—almost all of it can be done online from the free quote to the design—it is no wonder our customers love Wrapmate.
There is no long wait time (all the initial work can be done from the comfort of your own home.)
The installation is quick and easy with reputable, expert installers that can be found all over the country, and with our satisfaction guarantee, there is no risk on your part. Plus, you can take advantage of Wrapmate's financing options, the only financing program in the industry.
Get Your Custom RV Wrap with Wrapmate
If you are ready to move forward with your custom RV wrap, we can help.
Start the process with the click of a button and use our free online tool to get your free quote!
At Wrapmate, we believe our customers deserve the best quality vehicle wrap and we can't wait to work with you to get your wrap design on the road.
---